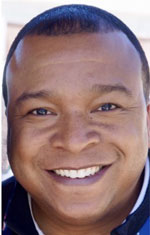 Kareem Bryant
Director of Racquet Sports
Upper Main Line YMCA
Kareem may be new to the Greater Brandwine YMCA scene, but his history with the game of tennis and racquet sports spans a lifetime. Kareem began playing tennis at the University of Penn when he was 6 years old and has amassed an impressive collection of awards and honors that he is too humble to list on his resume. When asked what tennis has done for him on a personal level, Kareem notes that "tennis has given me so much in my life: a full collegiate scholarship, national and international travel experiences, life-long friends and so much more."
As a child, Kareem was afforded the opportunity to play the game by a few dedicated men and women who believed strongly in the power of tennis to improve lives. He states that "the best way to pay homage to those that taught me the game was to do for others the way it was done for me." Kareem's entire career supports this personal mission. After spending ten years in the Philadelphia public education system as a teacher, school administrator, and Principal, Kareem took his expertise in education and transferred it back to the court by joining Legacy Youth Tennis and Education. At Legacy, Kareem served first as a program coordinator and then as the Director of Neighborhood-Based Programming, where he took the game of tennis to the neighborhoods of Philadelphia. From Legacy, Kareem joined Rodney Street Tennis and Tutoring Association as the Executive Director in August 2017, where he worked to improve the lives of underserved youth in the local community through tennis and education. In 2019, Kareem joined the United States Tennis Association National team as the National Senior Manager of Schools and Community programs where he was quickly introduced to pickleball!
After his first time playing Pickleball Kareem quickly understood what all of the fuss was about! When asked his view on why Pickleball is important to community building, Kareem stated that "Pickleball can influence a community in so many ways. The sport offers young and older people an opportunity to stay active and socialize. Overall, the sport offers communities the ability to create healthy common unities among peers."
When Kareem is not improving lives on the court, Kareem can be found cooking, traveling, playing golf, or spending time with his family!